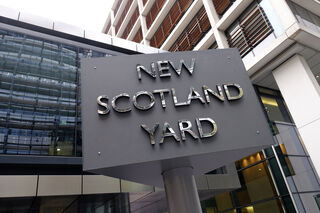 New Scotland Yard
is a major location in
Season 1
, and the workplace of the police force in London.
The crown proscecutor is Gwendolyn Hall, and members of the police force include Pike  and formerly D.S. Bruno.
Molly Ryan The Molly Ryan murder case is the main case investigated throughout the first season. Gwendolyn suspected Grace Atwood since the very beginning, and worked day and night to try and find evidence to convinct her. However, Bruno was not convinced. The Prince of Wales, Theo , blackmailed him to plant evidence on another suspect to divert attention away from him. Soon after, Bruno is starting to learn more of what the Prince did.
The convicted was: Grace  was declared not guilty after Bruno presents a recording of Luc confessing to the murder.
The guilty was:Luc Pascal for the murder of Molly Ryan under blackmail of Roz Walters
Ad blocker interference detected!
Wikia is a free-to-use site that makes money from advertising. We have a modified experience for viewers using ad blockers

Wikia is not accessible if you've made further modifications. Remove the custom ad blocker rule(s) and the page will load as expected.